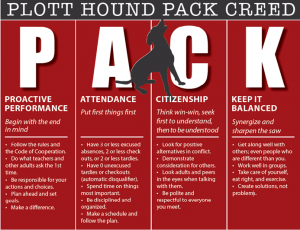 We are excited about our Plott Hound Pack program. This creed explains what it means to be a model Plott Hound at Hazelwood Elementary:
P – Proactive Performance – Begin With The End In Mind
Follow the rules
Do what your teachers asks the 1st time
Be responsible for your own actions & choices
Plan ahead & set goals
Make a difference.
A – Attendance – Put First Things First
No more than 3 excused absences, 2 checkouts, or 2 tardies
No unexcused absence, checkout or tardies
Spend time on things most important
Be disciplined and organized
Make a schedule and follow the plan
C – Citizenship – Think Win-Win and Seek First To Understand
Look for positive alternatives in conflict
Demonstrate consideration for others
Look others in the eyes when talking to them
Be polite and respectful to everyone
K – Keep It Balanced – Synergize and Sharpen The Saw
Get along well with others, even people who are different than you
Work well in groups
Take care of yourself, eat right, and exercise
Create solutions not problems.
Click Plott Hound Pack Creed to read more about it.