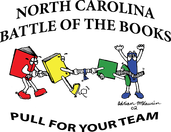 Hazelwood Team EBOB Coach: Carol Clarke and Stephanie Mehaffey
Important Information:
NC Battle of the Books Website
2017-2018 Team Requirements:
We have already started practicing with this year's Battle of the Books Team and it looks to be a strong team already.  A schedule has been given out already to the team.  FYI:  We will meet on Wednesdays every other week until December.  We will meet every week starting in January.
Because we are only allowed to take 12 students to the competition, it is important we determine who those 12 students will be early on in our school year.  The following parameters and requirements have been put into place because of the large number of students who have applied to be a part of our EBOB team.
No meeting absences will be allowed (unless approved by Mrs. Clarke or Mrs. Mehaffey or if the student is absent or checked out from school on our meeting day).  If a student has an unexcused absence, they will not be allowed to continue on our team.
By December 31st, all students must have read 9 of the 15 books.  At the beginning of January, we will determine which 12 students (along with 1-2 alternates) will be on our team going to the EBOB competition in March.
All students must read all 15 books by the beginning of March.