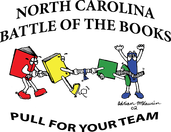 Hazelwood Team EBOB Coach: Carol Clarke and Stephanie Watts
Important Information:
NC Battle of the Books Website
We are excited for the 2019-2020 Elementary Battle of the Books (EBOB) season.  The book list for this year is already out and can be picked up at the HES Library or by clicking here:  EBOB Book List
Any 4th or 5th grade student interested in joining our team should come to our first meeting on September 4, 2019.  It will start right after school and go until 4:00pm. Before attending the meeting, pick up an EBOB application from Mrs. Clarke and return to her so we will know how you are getting home that day.  
We will meet every other Wednesday until December and then every Wednesday starting in January. Meetings will always be after school until 4:00pm in the HES Library.
Because of the large number of students who have applied to be a part of our EBOB team in the past, the following parameters and requirements have been put into place.  We are only allowed to take 12 students to the competition.
No meeting absences will be allowed (unless approved by Mrs. Clarke or Mrs. Mehaffey or if the student is absent or checked out from school on our meeting day).  If a student has an unexcused absence, they will not be allowed to continue on our team.

By December 31

st

, all students must have read 11 of the 15 books.  At the beginning of January, we will determine which 12 students (along with 1-2 alternates) will be on our team going to the EBOB competition in March.

All students must read all 15 books by the beginning of February.