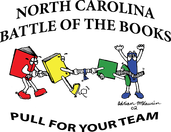 Hazelwood Team EBOB Coach: Carol Clarke
Important Information:
NC Battle of the Books Website
2016 Team Requirements:
We will have our first meeting on Wednesday, September 14th right after school until 4:00pm.  Please arrange to have your parents pick you up in the library at 4:00pm.  A schedule for upcoming meetings will be given out on the 14th   FYI:  We will meet on Wednesdays.  We will meet every week starting in January.
Because we are only allowed to take 12 students to the competition, it is important we determine who those 12 students will be early on in our school year.  The following parameters and requirements have been put into place because of the large number of students who have applied to be a part of our EBOB team.
No meeting absences will be allowed (unless approved by Mrs. Clarke or the student is absent or checked out from school on our meeting day).  If a student has an unexcused absence, they will not be allowed to continue on our team.
By December 31st, all students must have read 10 of the 18 books.  At the beginning of January, I will determine which 12 students (along with 1-2 alternates) will be on our team going to the EBOB competition in March.
All students must read all 18 books by the beginning of March.
If you can get a copy of any of the EBOB books, please do so and start reading.  I also have copies in the library for you to checkout and some in e-book format.  I can give you a copy of the book list or it can be found at this website:  http://www.ncslma.org/assets/docs/EBOB/eboblist2015-16.pdf
****************************************************************************************************
August 2016 Letter to Prospective Students:
During the 2016-2017 school year, we will be assembling a team to compete in the 2016-2017 Elementary Battle of the Books (EBOB) competition.  According to the North Carolina School Library Media Association who sponsors EBOB, the philosophy behind this competition is to "encourage reading by all students at the elementary level." Under my guidance, we will read and study all 18 books on the list.  In March of 2017, a quiz bowl-type competition will be held where student teams demonstrate their knowledge of the books. Our teams have been so strong in the last four years that we won three of the competitions and placed 2nd in the other.
Our team will consist of only 12 students.  Our first meeting, however, is open to all interested students and will be on Wednesday, September 14th.  We will continue to meet every two weeks on Wednesdays.  Meetings will be directly after school until 4:00pm.  In January, we will start meeting once a week. The list of required books to read is on the back of this letter.   All of these books need to be read for the competition.  We have copies of these books in the Hazelwood library (as paper copies).  You are also able to buy your own copies or check them out from the public library.